When Birds Are Singing..
I finally gave in to the much-raved about 
Rouge Bunny Rouge
 eyeshadows when I saw that
Luxola
was having a 30% off sale.
Luxola
 is a Singapore-based beauty online retailer that ships door-to-door to the Philippines 
for free
! For local beauty fans like me, this is godsend. They carry brands that aren't freely available here in the Philippines such as
Alpha-H
,
By Terry
,
Dr. Jart
,
Edward Bess
,
NUXE
,
Rachel K Cosmetics
,
REN
,
SK-II
,
This Works
,
Zoeva
and many others. This is actually my second purchase from the online shop and I'm ecstatic to share that they deliver door-to-door in less than a week's time to the Philippines without any hassle. Moving on, I bought
four 
Rouge Bunny Rouge eyeshadow singles in
Delicate Hummingbird
, 
Bohemian Waxwing
, 
Unforgettable Oriole
and 
Abyssinian Catbird
. I was also eyeing another one,
Eclipse Eagle
, but it was out of stock. Don't the names sound so…. for lack of a better word,
complexly
hipster
? They're actually all derived from different kinds of birds (
no duh, Shari)
. I even had to look up a catbird as I was stuck with images of a half-cat, half-bird creature while swatching this whole set. I will be reviewing these individually with comparisons to other brands and matching FOTDs so if you're here for in-depth reviews,
sorry
. For now, I'll only be doing swatches and first impressions.
A League of its Own
In general, the texture of these shadows are all
topnotch
. They're super smooth and silky, almost feeling more like cream than powder.
Buttery
is an understatement. They're similar to the Burberry sheer eyeshadows which I recently fell in love with, only these RBR shades I got are more shimmery. I could slightly compare the butteriness to LORAC Pro's satin eyeshadows (which is similar but not exactly the same) except there's 
zero fallout
on these. Pigmentation varies from shade to shade with Abyssinian Catbird being the most pigmented of the four. Can I also just share the Rouge Bunny Rouge brand description on their website? It sounds like a literary masterpiece worthy of its own fairy tale. I think I had to look up a word or three.
At Rouge Bunny Rouge we believe everyday is worthy of a soupcon of whimsy. As if the book of the Enchanted Garden lies open in our hands, we tell its enduring tales through powders that whisper over skin, unguents that caress and cajole and mesmeric vapours that seduce the senses. With indulgent textures tied with wistful tones, each fragment is created to enhance natural beauty, allowing you to become the protagonist in your own mysterious tale.
Delicate Hummingbird
 is a dusky
sugar-frosted plum
that remains to be one of the best-selling shades of the brand. I like that it has the perfect blend of purple, brown and grey tones making it a taupey plum shade I can wear without looking like I haven't slept for days. It has good pigmentation, although not as intense as the bold Abyssinian Catbird. I 
think 
I may just pull off wearing it alone.
Bohemian Waxwing 
is an 
iridescent bronzed champagne 
that makes one lovely neutral to be paired with just about any other shade. Although I don't really see it as champagne, more like a light taupe brown. Pigmentation is the same as Delicate Hummingbird – good but not as saturated as Abyssinian Catbird. In the pan, it looked quite
boring 
to me, but swatched, transforms into a beautiful complex shade. To me, it looks like Delicate Hummingbird without the purple tones. I'm excited to see how it translates on  my lids.  
Abyssinian Catbird
 is a bold olive-toned golden bronze. I think it's the creamiest of all the shades, almost didn't feel like I was swatching powder shadow. One swipe gives a super saturated color that's just too beautiful for words. I don't think I have any shade similar to AbCat at all. It's a step out of my comfort zone because of the olive tones, tbh. I've never really worn khaki shades well, but I'm willing to give this one a shot.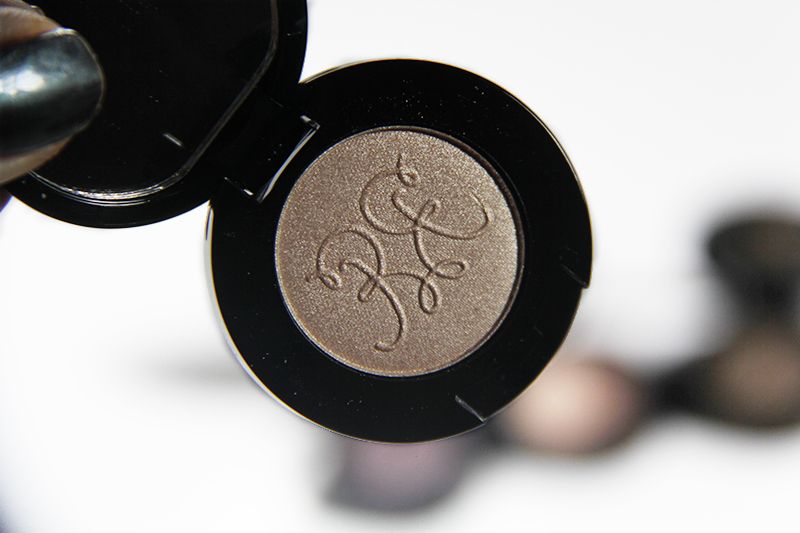 Unforgettable Oriole
 is a 
metallic white gold 
that I plan on using not just as a highlight color, but a lid wash paired with darker shades on the outer-v. It has good pigmentation although it takes two heavy swipes to achieve full opacity, unlike the rest that are opaque in just one swipe. I think this isn't as unique as the other three shades, but let's see how I can use it differently.
Show me the Swatches
IN SUMMARY
Overall, I think these
Rouge Bunny Rouge
single eyeshadows aren't raved about for nothing. Usually, I shy away from overhyped things and when I do give in, I find that it's all smokes and no fire. This time though, like the
Burberry eyeshadows
, I think it's all
fiiiiiire
. Beautiful creamy texture that melds into the skin upon application. Throw away those blending brushes because these seem to blend seamlessly on the lids on their own. Also, despite my heavy swatches, these virtually have no fallout at all. I can't say yet about longevity or crease tendencies as I haven't worn it for a full day but will update you on the individual reviews on these. All in all, I can say that Rouge Bunny Rouge is definitely one of the best eyeshadow formulas I've come across so far. Better than Tom Ford, Chanel and Guerlain, even. I could not equate it to my love for Burberry though, as those 
sheer eyeshadows 
hold a special place in my heart because they do neutrals so damn well (I'm waiting for 2 more shades to add to my collection). I have yet to wear these RBR shades on for a full day with a full look and see if they can contend with my Burberry infatuation.
Have you tried any Rouge Bunny Rouge shades? If so, what are your thoughts on the brand? *Affiliate Links