Thank you for all the votes that got me into the
Avon Makeup Council
! I truly appreciate, it you guys. The time you took to vote for me means a whole lot. Thank you, thank you a million times more! First order of business being chosen as a member of the
Avon Makeup Council 
is the workshop with
Avon Global Makeup Artist 
Lauren Andersen
. To be honest, I had no clue who she was before this event. Forgive my living under a rock lifestyle – Lauren is actually famous for enhancing 
Jessica Alba
's already flawless face. Her extensive Hollywood clientele also includes 
Nicole Ritchie
,
Ginnifer Goodwin
,
Eva Mendes
among others.
The makeup goodies in the photos above were laid out on our tables complete with a brush set so we could try the techniques Lauren demonstrated as she was doing them. My seatmate (see below) and I were so enthralled by them that we were more into swatching and trying than listening (oops!) for a short time there.  
Meet my fabulous and super-fun-to-chat-with seatmate, 
Maxine
 whom I spent
almost 
the whole time exchanging beauty secrets (as well as photography tips) with! We both went to the same college (which she still attends now, gosh I'm
old
!) and have the same passion for beauty as well as fashion (her shoes are killer!). 
Lauren
demonstrated how to use the new Avon makeup line. Her philosophy coincides with Avon's belief that makeup shouldn't
cover
but
enhance
each one's natural beauty. She mentioned that her mom was actually an Avon lady then which introduced her to the wonderful world of makeup at an early age. Seems only fitting now that she's been chosen as the global makeup artist of the brand! After the demonstration was an
open forum
 which was loose and casual, showing Lauren's more spontaneous and effervescent side. There were a lot of questions tossed that she gamely answered along with a few anecdotes from her experiences as a makeup artist.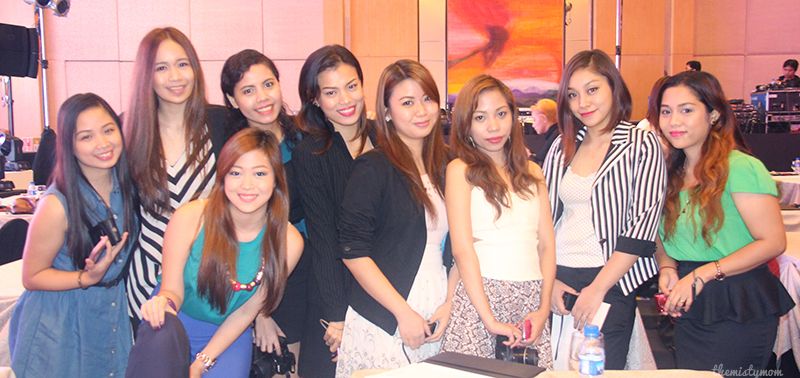 L-R: Raych, Maxine, Hazel, Jes, Giezelle, Eyah, Kirstine, Maia Rose  
One of the highlights of this event for me (besides meeting a global celebrity artist of course!) is seeing and chatting with fellow beauty junkies! It was certainly a treat to see in person the beautiful faces behind the different Filipino beauty blogs I read. So nice to meet you all, ladies!
And finally – an almost complete shot of the AVON Makeup Council! I believe we are missing two other members here. I wish we all could have been introduced to each other but sadly, there wasn't any time allotted for it. I think I only met half of these beautiful ladies. I hope for the next activity planned, we'd have more time to chat.
Thank you Avon Philippines for this wonderful opportunity and for picking me to be a part of it. See you ladies soon!